Norsepower Rotor Sail Lightweight Solution wins JEC Innovation Award in the "Maritime Transportation & Shipbuilding" category.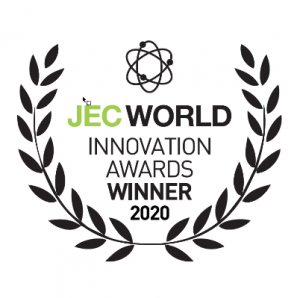 Paris, May 13, 2020 – Norsepower, Comaxel and Gurit are proud to announce that they have won the JEC Innovation Award in the "Maritime Transportation & Shipbuilding" category. This innovation helps freight and passenger vessels to reduce fuel costs by 5-20 %, enhancing the propulsion system of a vessel by using wind as an auxiliary propulsion measure.
The added value offered by this innovation are manifold, ranging from financial benefits through substantial fuel savings, image benefits, easier access to financing from an increasing number of environmentally sensitive institutions and an overall competitive advantage. The ability to harness the wind as an additional power source to enable a reduction of fuel consumption is a natural next step for the maritime transport industry as it seeks to remain cost-efficient and meet environmental regulations.
The Norsepower Rotor Sail Solution uses advanced composite materials and a leading-edge control system to reduce cargo and passenger vessel fuel consumption. When the wind conditions are favourable, Norsepower Rotor Sails allow the main engines to be throttled back, saving fuel and reducing emissions. Rotor sails can be built onto new vessels or retrofitted to existing ships.
About the JEC Innovation Award winners
Norsepower is a Finnish clean technology and engineering company pioneering modern auxiliary wind propulsion for the global maritime industry. Norsepower's Rotor Sail Solution is a proven, low-maintenance, easy to use, and reliable fuel saving technology, supporting the decarbonisation of the shipping industry. The company was established 2012 and since then it has gathered more than 20 million EUR of funding which has enabled development, piloting and commercialisation of the Norsepower Rotor Sail Solution.
www.norsepower.com Contact: Jarkko Väinämö, COO, Jarkko.vainamo@norsepower.com
Comaxel is the producer of the composite body for the Norsepower Rotor Sail. Comaxel provides a wide range of products ranging from small glassfibre washers to 30m Flettner rotors. Comaxel is based in Poland and has a staff of 50. Together with Norsepower, Comaxel developed all the tooling which is among the most advanced in the industry. Microprocessor controlled electrical heated molds ensure highest possible quality is achieved. Comaxel is well known for their capabilities and facilities to produce different types of mega structures in composite materials. During 2019 more than 800 tons of composite parts left their facilities in Goldap produced using prepreg, infusion and HLU processes.
www.comaxel.com Contact: Michael Rann: info@comaxel.com
Gurit is a leading developer and manufacturer of advanced composite materials, composite tooling equipment and core kitting services. The product range comprises structural core materials, fibre reinforced prepregs, wind blade moulds, formulated products including coatings, resins and adhesives as well as structural composite engineering. Gurit supplies global growth markets such as the wind turbine industry, aerospace, marine, rail and many more. Gurit has a staff of 3000 and operates production sites and offices in 25 countries worldwide.